Our Window Cleaning Services
We have a wide range of window cleaner services - cast your eye below to see what we are able to offer all of our customers.
From our base in Northampton, we offer a wide range of window cleaning services. We cover Northamptonshire, Milton Keynes, London, Birmingham, Bedfordshire... We'll go most anywhere - just try us!
Domestic Window Cleaning
Many window cleaners advertisements sound great on paper. However when you come to ask them to clean your house they often then say "sorry we don't do domestic property" this is mainly because;
There is more money in commercial cleaning.
There are no obstacles such as dog mess, clothes lines and gates etc.. to get in the way.
We think this is unfair to customers who want a professional service! Therefore we are happy to help, however we charge a minimum fee of £17.50.
Inside cleans available subject to quotation on request.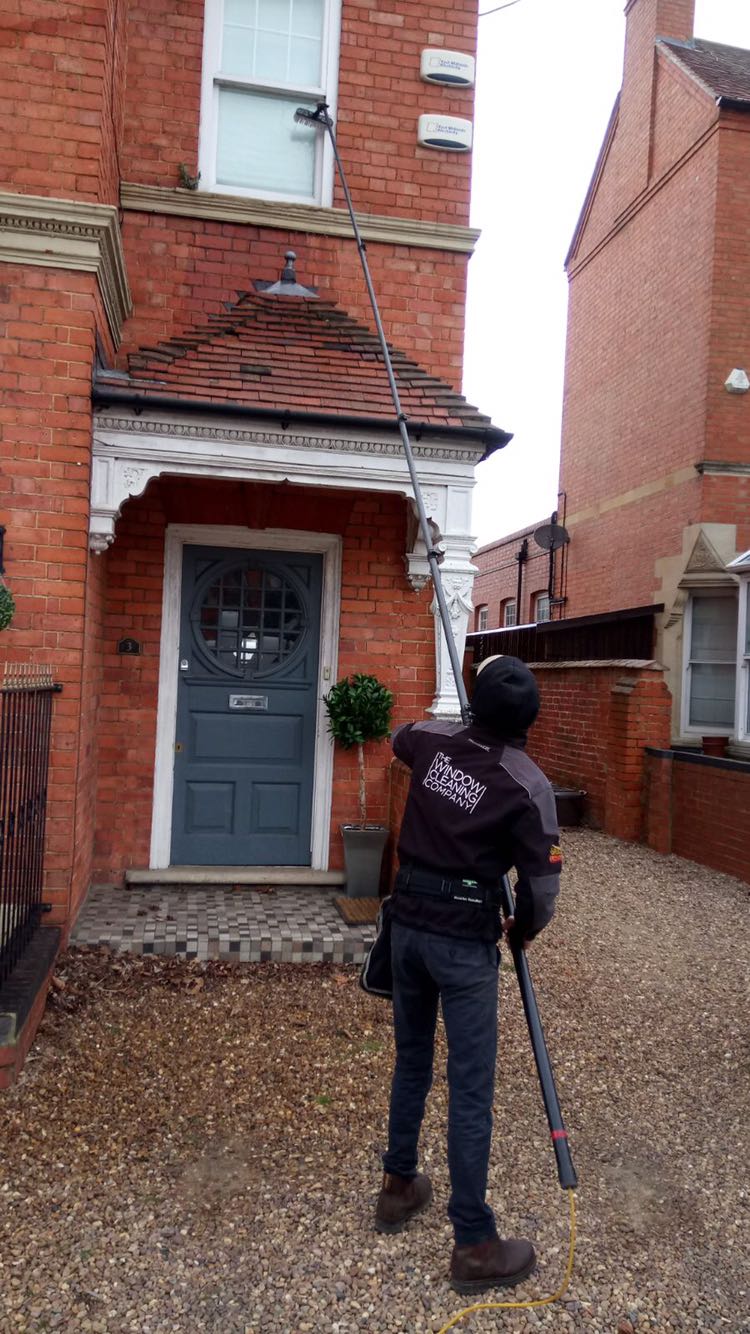 Commercial Window Cleaning
Chiefly being commercial window cleaners, we pride ourselves as being completely complainant with the latest health & safety regulations.
With every quotation given we supply:
Risk Assessment
Method Statement
Public Liability Insurance
Having been trained in using cradles, cherry pickers and rising platforms there isn't anywhere realistically that we can not access. No work done either with ladders or step ladders will be permitted, unless a specific risk assessment has been carried out and it has been proven that the technique can be used in safety.
Our invoice terms are 31 days from invoice date.
Contracts are most welcome as we feel this helps to develop a business/customer relationship and prevents any confusion on agreements made.
Gutter Clearance
This is a dirty job!!!
Your gutters play a vital part in your building's welfare. The gutter is designed to catch all the water from your roof and divert it down the drain.
When your gutters get clogged with leaves and moss etc; the water is forced to run between the roof and the gutter into your roof line, if left unchecked the water could even run down the inside of the cavity and possibly damage your window casing.
Countless times I have heard of unnecessary amounts of money being spent on repairs due to water damage that could have been prevented simply by having the gutters cleared and in good working order.
Have 'The Window Cleaning Company' come and service your guttering twice a year and this will give you the peace of mind; none of the above will happen to you!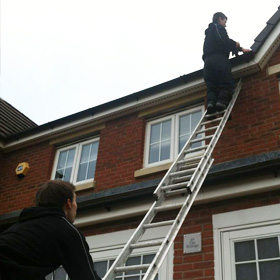 Conservatory Roof Cleaning
Conservatory roof cleaning can be one of those jobs that you could probably do yourself.
However; it will take all day, you will get soaked and when you're done and you've packed your things away you will find, inevitably, you have missed patches!
The Window Cleaning Company clean and restore UPVC to its peak condition.
Using the ladderless pole system we can guarantee there will be no damage to the conservatory and of course - no missed bits.
Prices start from just £35.00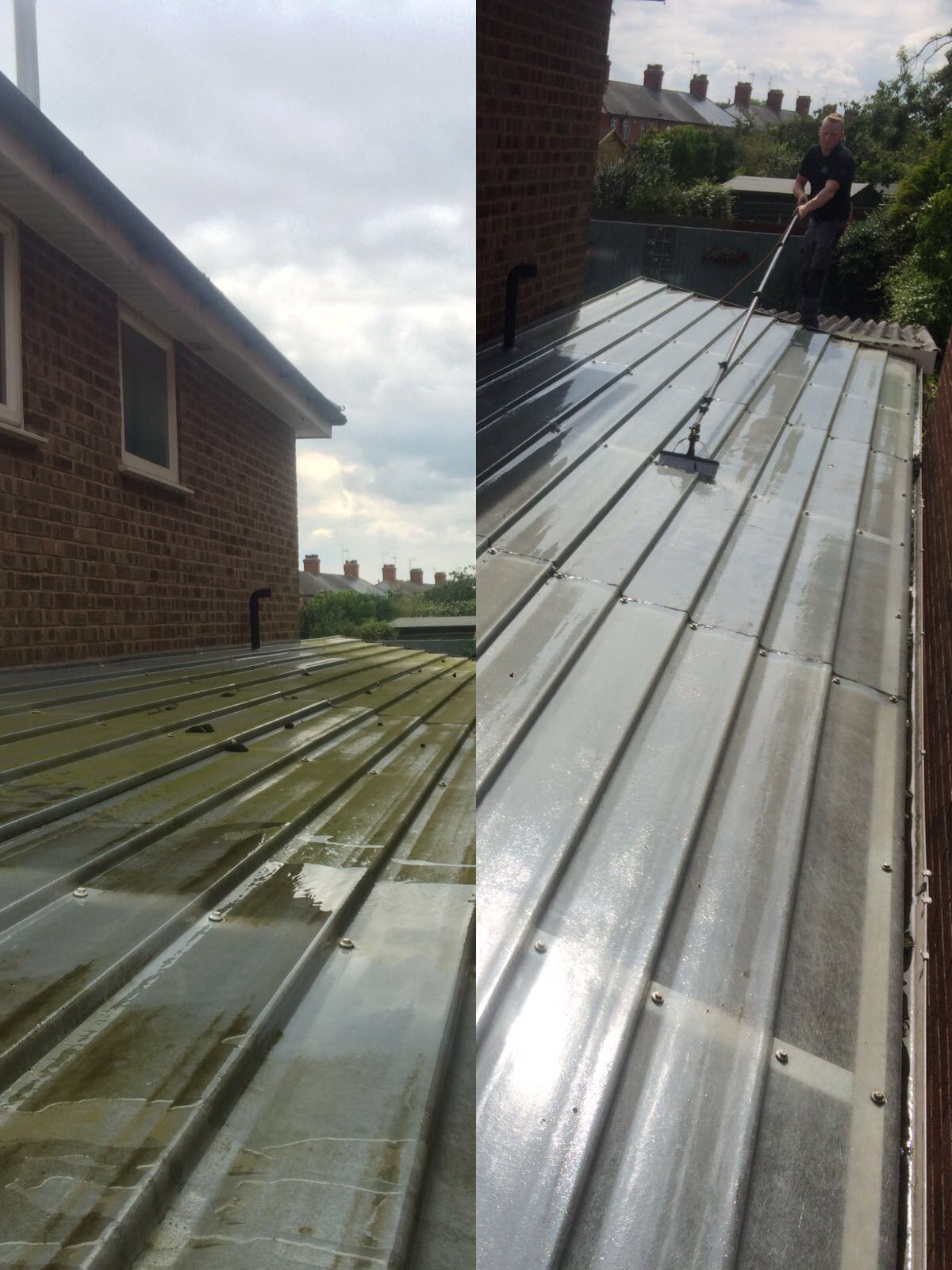 Fascia and Soffit Cleaning
Your fascia and soffits are wooden and rotten, so you decide to get new UPVC replacements. Three years have gone by and they now look worse than the rotten wooden ones, the difference is - you can't paint UPVC.
Instead of spending £1000's on replacements you can spend a fraction of the price on a complete clean.
We take great pride in the result as 95% of the time they come back looking like they have just been fitted!!!
Well worth every penny.
Cladding Cleaning
Is your business base cladded? Is the cladding looking dirty?
Do you have your business name fixed to it?
If so, it is reflecting your name as you're reading this! The exterior cleanliness of a workplace is healthy for both the company and its staff, but ESSENTIAL for the business and its clients.
Stained and grimed premises can misrepresent the professional company that you really are.
Clean Business = Good Business
Our chemical-free cleaning system, although powerful, is environmentally friendly. Using heated de ionized water in combination with high pressure jets, we can remove even the most stubborn algae, moss, grime, chewing gum, graffiti substances, and much, much more!.
Have your cladding looking its best with The Window Cleaning Company's purified pressure washing system.